Funlands Amusements, Blackpool - ZIP ZAP WOW!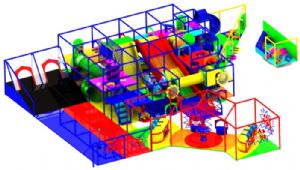 One of Blackpool biggest seafront attractions has just got bigger and better.
The competition is fierce on Blackpool's Golden Mile and proprietor Roger knows all too well that commercial success lies in grabbing the customers attention the minute they enter the venue.
He asked for the 'WoW' factor and got exactly that and more, with a huge multi level play structure for all ages, a ball cannon 'zap' zone and a 15 metre 'zip' line – a first for indoor play!
'The space we had available was a real challenge and only Angus Firth Design with their expertise, bespoke design and manufacturing capabilities could deliver exactly what we wanted and for the right price.'
The play area is also complemented by mini bowling lanes and a refurbished café area.
The grand opening date is Saturday 28th May 2011.

© Angus Firth Design - 28/05/2011