Multi Sensory Rooms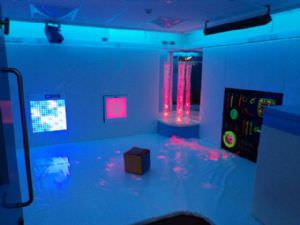 What is a multi sensory room?
It is a calm and non threatening environment, away from day to day distractions, for users to interactively explore their senses. They include a range of special equipment to create events which focus on a particular sense such as touch, sight, sound, smell and movement in a stimulating or calming manner.
How does it work?
It can work in many ways: through coloured lighting, visual effects, tactile experiences, music, and aromas in many combinations and variations. Special equipment allows the user to interact with and control their environment in a positive way.
Who can benefit from it?
Whether for education, rehabilitation or therapy the combined use of light, sound and multi-sensory equipment is now a widely recognized form of promoting benefit for people of all ages and all abilities. They can be designed for an individual with specific requirements or can be multi-purpose for users with different needs. Just some of the main benefits are below:
Anxiety and stress management
Development of Communication skills
1 to 1 work with cause and effect
Body and spatial awareness
Development of cognitive skills
Key worker bonding
Memory recall and improvement
Relaxation, aromatherapy, massage
Where can they be found?
Multi sensory rooms work for a wide range of establishments such as schools, nurseries, indoor play centres, community centres, hospitals, elderly care homes, psychiatric hospitals and private homes.
What type of products can it contain?
General equipment can include:
Cushioning – Floor padding and wall padding covered with an easy clean PVC
Special Lighting effects - Mood lighting/Image Projectors/Sounds activated lasers/fibre optics/colour changing bubble tube/UV lighting
Furnishings - Colour change ball pool/ Infinity huts/ Steps & Slides/ Rockers/ Water Beds/ Vibration Tables
Interactive Switching systems (Cause & Effect) - Wireless switches/Balance beam/Hopscotch Floor and Wall Pad
For Visually Impaired - Aromatherapy/ Wind Panels/ CD Player/ Tactile panels
Wall Panels - UV Tactile /LED touch panels/ Colour change mood panel
Vestibular Equipment - Linear Swings/ Hammocks/ Rotational Swings
What service do you provide?
Angus Firth Design can offer the whole solution from design through to manufacture, installation, training and maintenance for the domestic, commercial or educational market. We like to work closely with the customer to ensure the design meets the needs of the user/s and budget. Once identified a fully itemized quotation would be supported by a 3D design for your consideration. We use materials and equipment of the highest quality and durability. All installations are guaranteed for 12 months and future maintenance arrangements can be provided.
How much does it cost?
All sensory rooms are tailored to your individual needs and we have a range of equipment to suit all requirements.
To arrange a site visit or to speak with one of our Sales Advisors:
Please telephone us on 01706 817106 or email: enquiries@angusfirthdesign.com

© Angus Firth Design - 20/04/2015