Case Study - Cranhill Beacon, Glasgow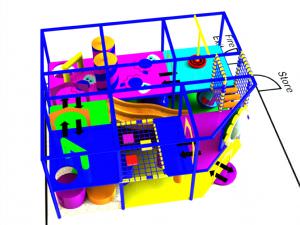 The Beacon is a purpose built play centre designed to provide an exciting, challenging and stimulating experience for young people up to the age of 15. The facility is situated in a large park space and provides a wide range of indoor and outdoor activities.
Existing facilities
We were first contacted by the centre to upgrade their existing indoor play area and remove any old tired equipment. They had found the existing facility had little play value, accessibility for adults for cleaning was limited and the carpeted floors were beyond cleaning.
Upon initial inspection of the play frame, although in a good general state of repair, we found that much of the equipment did not meet the current safety standards and the layout was unsuitable for the room. A relatively small room with lots of height, the equipment was mainly on the second and third levels with the ground floor left free for parental seating.
This overhead play frame used lots of steel, the crawl tubes were claustrophobic and had very little play value, the visibility for parents/supervision was poor and access to lighting was difficult.
They were very surprised to learn that the difference between making the existing equipment safe and a shiny new play frame was only £500!
New facility
The resulting design created a modern, bright and open play frame, packed full of the latest activities, meeting all the latest safety requirements and was accredited by RoSPA.
Sufficient parental seating was provided around the play equipment and visibility was improved. Light access zips were provided in the roof netting to provide easy access to lighting. All floor pads were covered in a hygienic, one piece, easy to clean PVC.

© Angus Firth Design - 10/03/2012