Play Castle in Varde, Denmark gives a treat for the youngest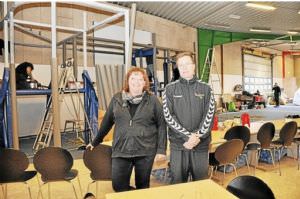 Castle Games, operators of the leisure zone, Legeborgen in Varde, Denmark have welcomed the delivery of the latest attraction for the 0-4 year olds, installed by specialists Angus Firth Design. The large climbing frame and soft play area is full of exciting activities, slides and interactive touch screen games.
"We must constantly develop ourselves, and after five years at the castle as well as 300,000 visitors, so it was time for this bet. We have not selected the cheapest but the best solution!" adds Carina Jensen.
Completion is expected to be ready in the middle of Week 7 and is one of the year's busiest months for the operator.
Links:
http://www.youtube.com/watch?v=psTgh34Vupk

© Angus Firth Design - 19/02/2012