Boomerang Multi Sensory Play Centre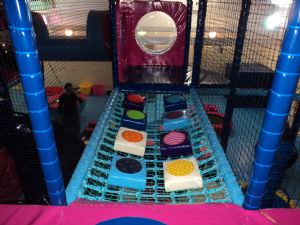 Disabled Children's Play dream comes true
DISABLED children and adults across the region now have somewhere to play — thanks to the hard work of a caring mum.
The doors of Boomerang opened on Saturday 11th June 2011 and more than 400 people tried out the water bed, bubble tubes and other sensory equipment supplied by Angus Firth Design.
They also met CBeebies character Mr Bloom and Crocodile Joe, with his snakes and reptiles.
The centre, in Woodhill Street, Bury, was set up by Emma Birkett, who could not find anywhere safe for her disabled daughter, Ellie, to play.
Ellie, aged 10, has autism, severe learning difficulties and mobility problems. Mrs Birkett, of Swanage Close, Brandlesholme, said: "It was really good to see Boomerang finally open and everyone said positive things about it.
"Ellie loves the centre. She has tried out all the different rooms and loves the slide. She loved watching all the other children play as well. It's great to finally have somewhere safe for her to play."
Mrs Birkett decided to set up the charity in 2008 after being inspired by Ellie and got to work fundraising, securing grants worth £170,000 from Bury, Bolton, Oldham and Rochdale councils.
Visit www.boomerangcentre.co.uk for further details.

© Angus Firth Design - 11/06/2011